Database Publishing for Gröner
A case study for B2B and B2C sales
Karl Gröner GmbH is a traditional specialist dealer for advertising technology. The extensive product range of the family-owned company from Ulm includes around 120,000 articles from the areas of films, screen printing, advertising textiles and decoration systems as well as digital services and large equipment system solutions.

Although seasonal in nature, styles and their prices often change during the course of the season in the textile trade. Therefore, current (print) catalogues and price lists are usually in short supply. In addition, there is an aspect that is particularly important for textile finishers:
The core business of this retailer clientele is to sell comprehensively finished outfits to companies and end customers. Gröner has come up with something special for textile finishers: A catalogue configurator, with which individually designed, printable catalogues in PDF format can be created in the simplest way.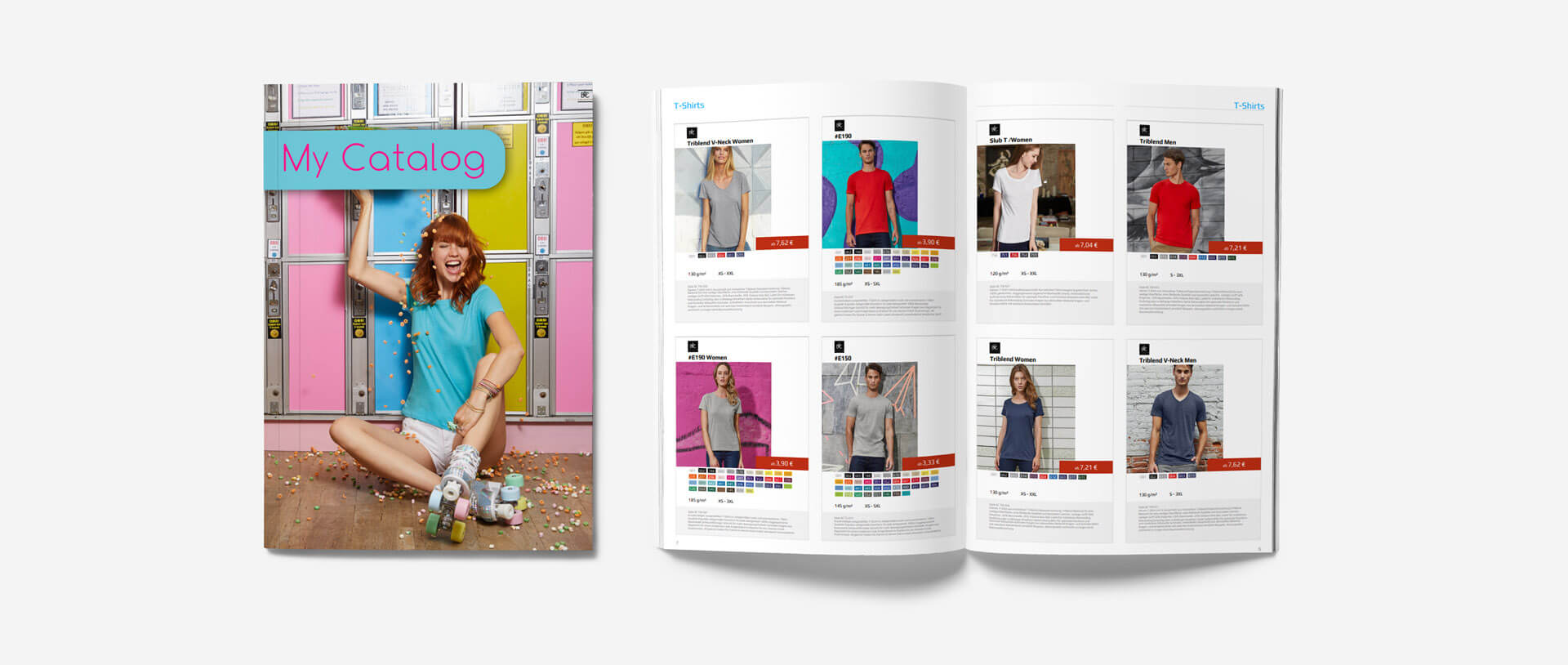 To use the catalogue generator, only a web browser and a customer account in the Gröner B2B platform is required. Using drag & drop a registered dealer selects from the current range of textiles which categories and styles he would like to offer to one of his end customers - for example sweatshirts, T-shirts and caps. In addition, the retailer uploads his own cover sheet for the nascent catalogue. The retailer now determines the percentage surcharge on his purchase prices for the articles transferred to the catalogue.
Any hit list, for example by filtering by category (e.g. "T-shirts"), brand, grammage or colour, can also be exported as a catalogue. This makes it possible to target in particular those end customers of the retailer who already wish to receive a concrete offer. There is no faster way!
My Catalog was realised on the basis of the ICONPARC Database Publishing solution. Within seconds, the configured catalogues can be output as web or printable PDF files and made available to a specific or any number of customers of a dealer buying from Gröner. A catalogue with over 100,000 articles on 440 pages is generated in only two and a half minutes.
In order to create an attractive advertising catalogue, Gröner resellers do not need to painstakingly collect product images, look up prices, or have any knowledge of layout design or the like, because all elements of the catalogue are already centrally stored and can be easily used. This also ensures the uniformity of brand management, which is important for manufacturers of the goods shown in the catalogue. Both the Gröner sales department and the textile finishers purchasing from the Ulm-based company are enthusiastic about the new tool, which will enable them to work even more effectively.
See for yourself!