MultiStore & MultiChannel
160 clients (dealers)
each use their own B2C webshop integrated in the B2C & B2B platform
EURONICS Austria is the most important Austrian specialized trade cooperation in consumer electronics. Dealers of all sizes - from specialised specialist shops to large specialist markets - have joined forces under the trademark RED ZAC.
Multi- and Omnichannel Strategy
on all terminal devices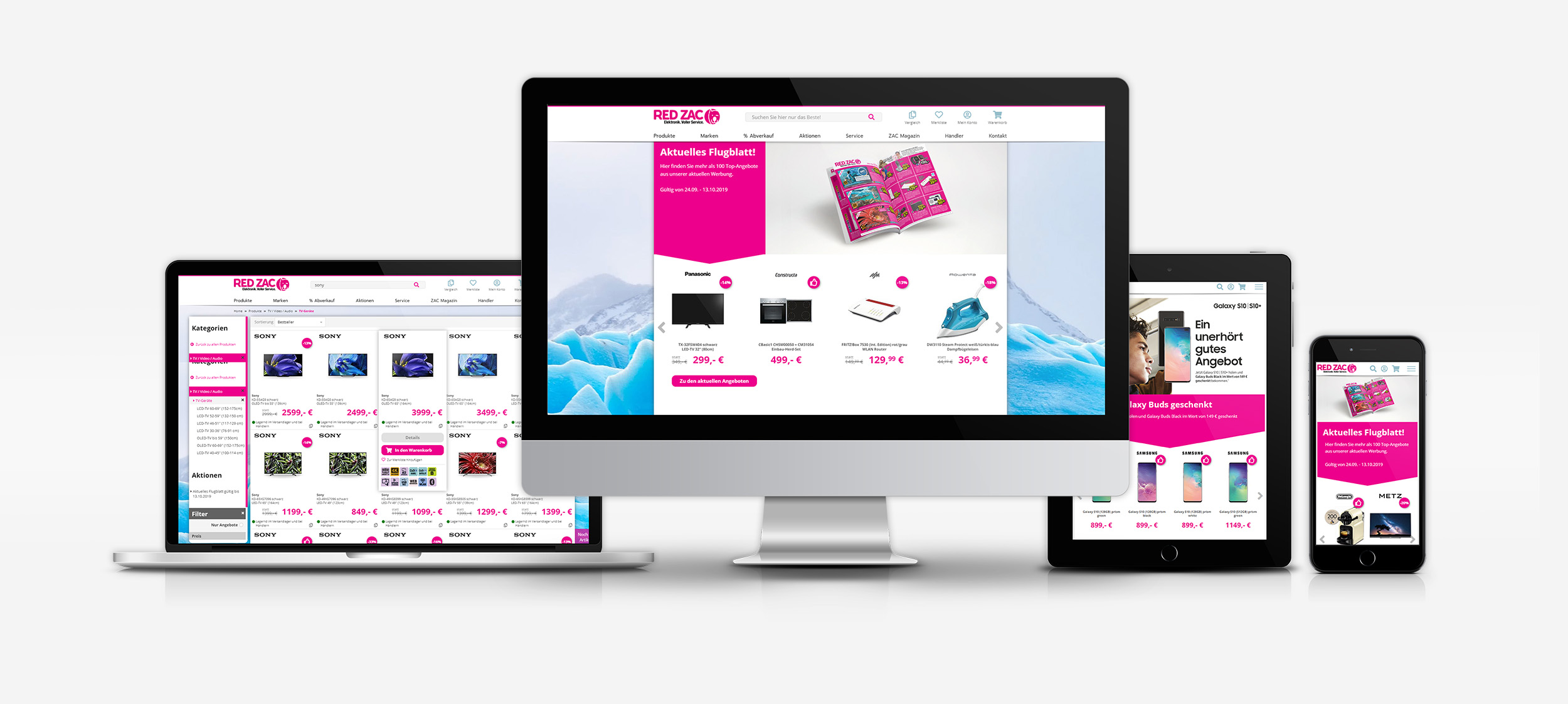 Supply of end customers to the retail trade (online and stationary)



Bundling and centralising resources in order to become more effective in competition



Offer the stationary trade a real added value by RED ZAC providing each retailer with a turnkey web shop. The head office takes care of the technical basis and takes over the maintenance of the content.
The desire for a uniform appearance within the RED ZAC brand across all dealerships



Introduction of a sustainable solution, in which system maintenance and updates are carried out gently in the background, so that everyday business continues "normally
Interactive Digital Signage
| | |
| --- | --- |
| | smartZAC |
| Auflösung | 4K |
| Produktabbildungen | 4K |
| CMS Abbildungen | 4K |
| Externes Rich Content von Produkten | ja |
| Produktvideos direkt von den Marken | ja |
| Einheitliches Look & Feel über alle Grenzen (Desktop, Smartphones, Tablets) | ja |
| Händlereigene Auftritte samt redaktionellem Content kreieren | ja |
| Design | Smartphone Optik |
| Größe | 43 " |
| Betriebssystem | Android 8.1 |
| Updates | keine notwendig, da alles über den Webbrowser läuft |
| Display | Capacity Touch wie bei Smartphones |
| Kiosk Funktion | ja |
| Suche | ja |
| Merklisten | ja |
| Produktvergleiche | ja und mit Funktion "Unterschiede anzeigen" |
| Anzahl der Produkte zum Vergleichen | 20 |
| Produktberater | ja |
| Händler-Markenkompetenz | ja |
| Zentrale Werbung Ausspielung nach 3 Minuten der Nichtnutzung | ja |
| Cloud-Lösung | ja |
| Händlersuche auf dem Händlerauftritt | nein |
| Produktseite drucken | ja |
| Gedrucktes Produktblatt mit Händlerkontaktdaten und QR-Code zum Händlerauftritt zum Produkt | ja |
| Optimiert für Tablets im KioskModus | ja |
| Barcode scannen | ja |
Advantages for end customers
Confidence due to the dealer-spreading uniform appearance within the brand RED ZAC


Optimal combination of the advantages of online and offline world


Customers benefit from the large product range - thanks to nationwide coverage by participating dealers


Clear product presentation, numerous filters and extremely fast performance enable goods to be found quickly - despite a product portfolio of several thousand articles.


Support through dealer (circumcircle) search and route planning


Cross-dealer purchasing within one order


Support for additional services provided by stationary dealers (service packages, e.g. setting up and connecting a washing machine)
Advantages for the RED ZAC dealers
RED ZAC provides dealers with a turnkey web shop whose content is maintained centrally for them. Additional flexibility is offered by the possibility to enter own products - independent of the brand headquarters.


In particular, dealers have more time for customer advice and service. In addition, they open up the online channel as an additional source of revenue.


Catalogue management, ordering and content management are closely interlinked and therefore very efficient. With RED ZAC, nothing is maintained twice and as much as possible is automated. In this way, each of the approximately 160 participating retailers receives its own B2C webshop with individualized content.
Reliability, best performance and scalability through cluster technology: growing visitor numbers are handled effortlessly!

RED ZAC brand presence as a marketplace for all retailers

Various entry options (via the brand presence or one of 160 dealer appearances)

Customers can shop at different merchants at the same time and pay centrally online. All within a single ordering process.

Product search with filtering of results by brand, category, technical features, price and much more.

Seamless integration of service packages and warranty extensions

Special brand shops, especially for LOEWE and MIELE

Sophisticated dealer search

Shopping consultant

Product comparison: Comparison of all relevant characteristics of any article
Strategy and digital consulting
In several workshops, we developed a promising strategy together with the board members of RED ZAC AT. The result was a comprehensive specification. This was followed by a design study....
Design study
We presented various designs to the board members. These were created in Photoshop and refined iteratively.
Software & Customization
We have been continuously developing the ICONPARC B2B E-Commerce Suite for 22 years. Always up to date with the latest technologies. This is the basis for the realization of all our solutions.
Integration
The implementation with all interfaces took place within 12 months. After a two-month test phase in the staging environment, productive operation commenced in the course of 2005.
Since then, extensions and optimizations have been implemented on an ongoing basis. To be continued...
Maintenance & Updates
Every month, more than 500 software changes are migrated to the live system. Preliminary tests - also by the customer - are carried out on a staging environment. Only after successful testing and approval is the changes transferred to the live environment.