Database Publishing for PUMA
A case study for international distribution
In the seasonal trade with sporting goods, styles and their prices are constantly changing, so current catalogues and price lists are often in short supply. After the season is before the season. In addition, there is an aspect that is particularly important in the team sports business: Here complete outfits are sold to sports clubs, which is an important pillar for many PUMA retailers. However, this business segment, which is also attractive from a manufacturer's point of view, has a catch: Since the clothing items required per team member are selected uniformly and thus matching each other, all manufacturers have a great interest in retailers giving them preference over other manufacturers - in principle a "winner takes all" situation.
PUMA has come up with something special here and has come up with the plan to offer its dealers an online configurator that makes it easy to create individually designed, printable advertising flyers in PDF format.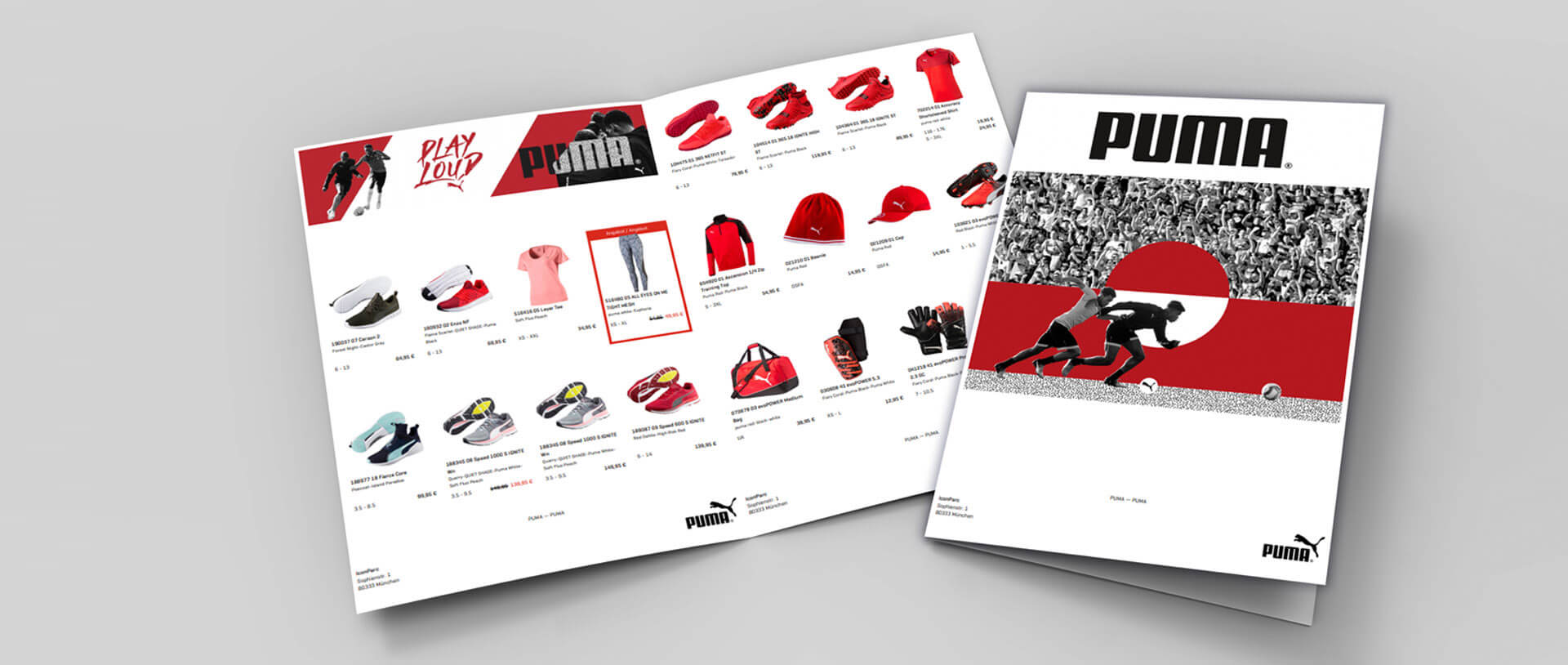 In line with PUMA's corporate identity, we developed attractive visual variants for the flyer design (layouts, text flow, background images, ...) as well as content design such as type and scope of the article descriptions, consideration of special prices, etc.
To use the Flyer Generator, only a web browser and a dealer account within the PUMA B2B platform is required. Using drag & drop, the PUMA retailer selects from the current seasonal merchandise which outfits he would like to offer to the respective club - for example, consisting of tracksuits, training shirts and shorts as well as matching shoes. Furthermore, the retailer only needs a logo of the respective sports club, which he uploads into the flyer generator. The club logo is then automatically positioned and visualized on the images of clothing items in the appropriate place. With a few simple steps, a highly personalized advertising flyer is created, which helps PUMA dealers to convince club customers.
The PUMA Flyer Generator was realised on the basis of the ICONPARC Database Publishing solution. Within seconds, the configured advertising flyers can be output as printable PDF files and made available to club customers.
In order to design an attractive advertising flyer, PUMA dealers do not need to laboriously collect product images, look up prices, or have any knowledge of layout design or the like, because all elements of a flyer are already centrally stored and can be used in the simplest way. This also ensures the uniformity of brand management and pricing, which is important for the manufacturer. Both the sales department and PUMA dealers are enthusiastic about the new tool, with which they can work even more effectively.
See for yourself!