RED ZAC gewinnt begehrten "Retail Innovation Award" der Euronics Gruppe
Im Zuge der jährlichen Generalversammlung von Euronics International, der größten Elektrohandels-Organisation im Raum EMEA, fanden zudem die jährlichen obligatorischen Preisverleihungen statt. Gekürt wurde neben Lieferanten und Industriepartnern in unterschiedlichen Kategorien auch Landesorganisationen für außerordentliche Leistungen. Sieger in der begehrten Kategorie "Retail Innovation Award": RED ZAC aus Österreich. Vorstand Brendan Lenane konnte den Award unter tosendem Applaus von Marc Harmsen, Sr. Director Brand Management and Digital Transformation von Euronics International, entgegennehmen.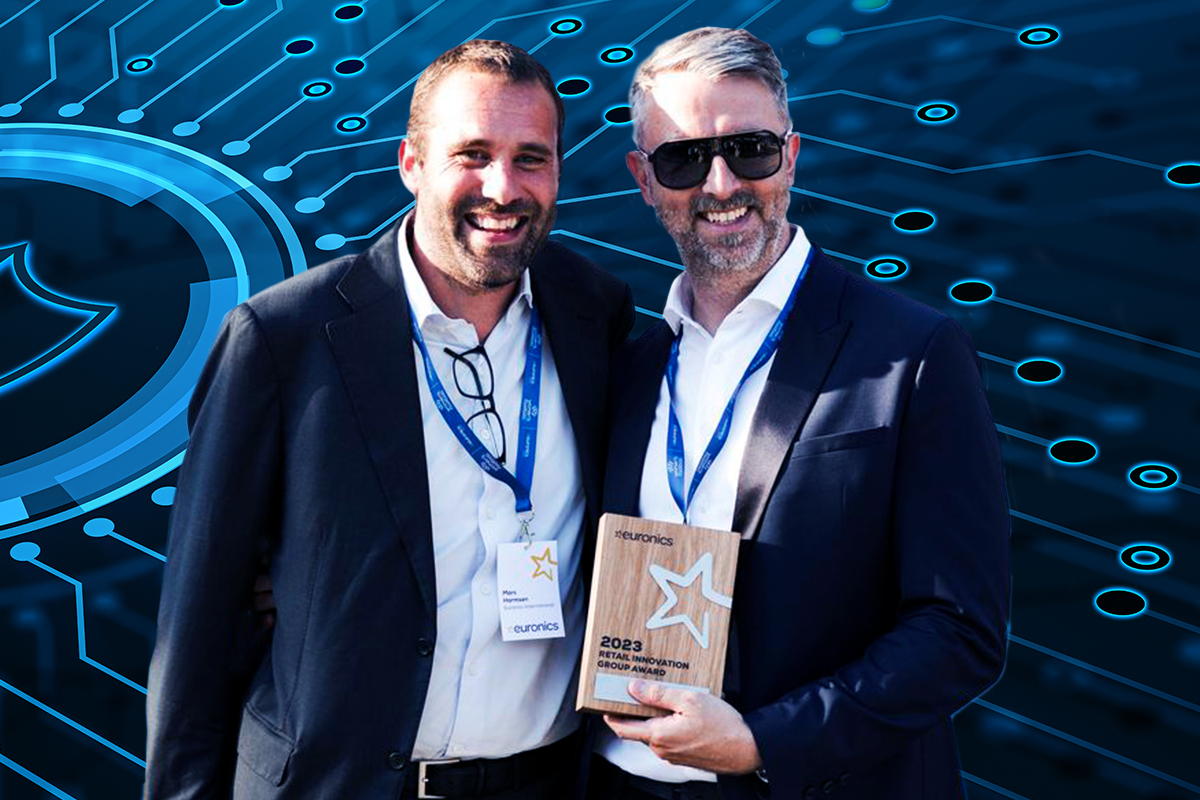 Marc Harmsen, Sr. Director Brand Management and Digital Transformation von Euronics International und RED ZAC-Vorstand Brendan Lenane
"Der diesjährige Schwerpunkt des Retail Awards lag auf eCommerce samt der Integration der "Digital Solution Partners" der Gruppe und hier konnten wir voll punkten", freut sich RED ZAC Vorstand Brendan Lenane bei der Preisverleihung in Valencia/Spanien. "Für uns ist das eine großartige Auszeichnung und ich gebe diese gerne an meine Marketing-Zacis in der Zentrale weiter, die hier tolle Arbeit geleistet haben." Unter rund 30 Landesorganisationen in 40 Länder des Großraums EMEA konnte sich Euronics Austria/RED ZAC gegen seine starken Euronics-Kollegen durchsetzen.
"Für uns war die Sache klar: Das Team von Brendan Lenane hat sich mit großartiger Arbeit sowie tollen Innovation über die vergangenen Jahre unglaublich entwickelt", begründet Marc Harmsen, Sr. Director Brand Management and Digital Transformation von Euronics International die Wahl. "Es war an der Zeit, dass die geleistete Arbeit innerhalb unserer globalen Organisation mit dem Retail Innovation Preis ausgezeichnet wird. Der Marktplatz von RED ZAC mit deren hohen Grad an Automation, weitgefächerten Funktionen sowie angeschlossenem smartZAC gilt als Benchmark innerhalb unserer Gruppe. Auch schafft es das Team laufend Dienstleistungen für deren Mitgliedern eindrucksvoll zu konzeptionieren und auszurollen – so etwa das Service der Mitarbeitersuche für Händler unter karriere.redzac.at."
"Es ist eine tolle Anerkennung, die uns hier zuteilgeworden ist", erklären E-Commerce Manager Andreas Kaufmann, RED ZAC sowie Social Media Manager Philip Scheida, RED ZAC. "Das ist eine große Motivation für uns, zumal wir erst kürzlich vom Handelsverband in zwei Kategorien die Nase vorn hatten. Da macht die Umsetzung natürlich doppelt Freude. Die größte Motivation dahinter ist allerdings unsere Projektpipeline, denn wir haben so viel auf redzac.at vor und freuen uns auch schon auf Feedback, wenn wir unsere Neuerungen erst mal lanciert haben."
"Klar ist es großartig, wenn durch Awards unsere Arbeit bestätigt wird", ergänzt Lenane. "Unser erklärtes Ziel ist allerdings die Zufriedenheit unserer Mitglieder und speziell im eCommerce-Bereich jene unserer Endkunden laufend auszubauen! Die Auszeichnung wie auch die zahlreichen Rückmeldungen unserer Mitglieder bestätigen uns, dass wir hier auf dem richtigen Weg sind."
"Wir arbeiten seit 2004 eng mit dem Softwareunternehmen ICONPARC aus München zusammen, die für uns die B2B2C Multistore-Plattform, die Interactive Digital Signage smartZAC sowie das neue Karrierportale entwickelt", meint Lenane. "Es ist also ein gemeinsamer Erfolg, den wir hier feiern!
Über RED ZAC
Bei RED ZAC-Profis steht der Kunde an erster Stelle – und mit über 200 Geschäftsstellen ist RED ZAC österreichweit für jeden leicht erreichbar. Die nächste RED ZAC-Geschäftsstelle finden Interessierte unter www.redzac.at. Mit rund 3.000 Mitarbeiterinnen und Mitarbeitern sowie Lehrlingen im Verkauf und als Service- und Elektrotechniker ist RED ZAC der perfekte Berater nicht nur im Verkauf, sondern auch im Service- und Installationsbereich.